The perfect writing software is going to look different for every author. I've used most of the big ones at this point, and today we're looking at two popular browser-based options: NovelPad and Novlr. On the surface, these two programs look fairly comparable: minimalistic, browser-based, community-oriented writing options. But take a closer look and they're not even in the same category. Let's get into it.
I'm going to take you through the writing process of both programs, from project creation to export, see how they compare, then I'll tell you which I think suits what type of writer.
Content:
What is NovelPad?
NovelPad is a browser-based novel writing solution that provides high-tier organization, offline and online mode, secure backups, and many unique, user-driven features. NovelPad is compatible with any browser, device, and processing system. Users gush about features like their scene cards, intuitive goal-tracking, side-by-side revisions, inter-linking notes system, and attentive tech support.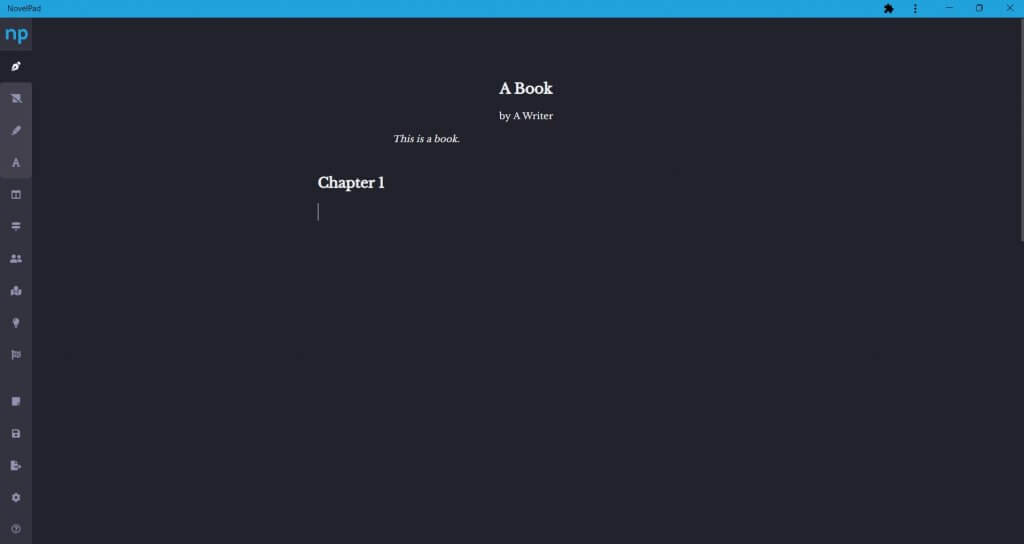 What is Novlr?
Novlr is a browser-based novel writing solution that creates a friendly, encouraging writing environment. It offers features like project templates, writer and project analytical, and a thriving writing community for users. Novlr is currently available for community buy-in.
Writing a book with NovelPad
Now I'm going to take you through the process of using NovelPad, from creating the project to exporting your finished book.
Creating a new project
NovelPad works in browser on any device, and I like to write out of my browser, so I click this little pop-out and it opens as an app, which you can then access from your desktop without internet connection.

To create a new project in NovelPad, you either click the gray plus button, or you can hit IMPORT FROM WORD. So long as you follow a couple formatting rules, like replacing your scene breaks with hashtags and formatting your chapter titles as headings in Microsoft Word, it will split up your story into chapters and scenes for you. Here's an import walkthrough.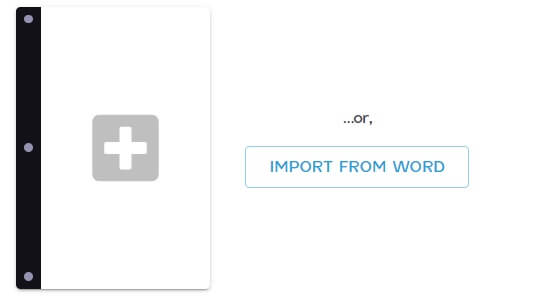 Setting up the project
If you are a planner, you can follow these steps before you start drafting, or you can fill these out as you develop the story (or never use them at all).
1. Set up your Characters
On the Characters page, you can add your characters, including their nicknames and a bio. If you're the type of writer who gets very into character building, you can link a Note to the character to have more space and formatting. More on that below.
But the coolest thing about the Characters page is, once you start drafting, every scene that this character appears in will show up there, in order. That makes it easy to check your continuity and tighten character arcs. This is why you include those nicknames, because if you have a character who is referred to by Debbie, and Debs, and Mom, you can make sure they are all included.
2. Locations
Locations function the same way as Characters, where you make a profile for each major location in your story. You manually assign Locations on each Scene Card, then you can see every scene that happens at that location, in order.
3. Plot board
With the Plot board, you can track plots, subplots, character arcs, romance arcs, etc. As you write, assign Plots to Scene Cards, just like we did with Locations, and see every scene that belongs to that Plot in chronological order.
Characters, Locations, and Plots are some basic groundwork you can lay out ahead of time, if you're a meticulous planner, or you can completely ignore them and go the minimalistic pantser route. Dealer's choice!
Backups
Security is so important for writers. Nothing will zap motivation like lost work you have to re-write.
NovelPad has a couple different ways they keep your work safe. One is automatic backups to a secure cloud every 60 seconds. You'll never lose more than a minute's worth of work.
Two, they have something called Rewind, which is where you can reset a project to any day or time, and it restores that version. If you do that and hate what you restored, restore it again to before you restored that version.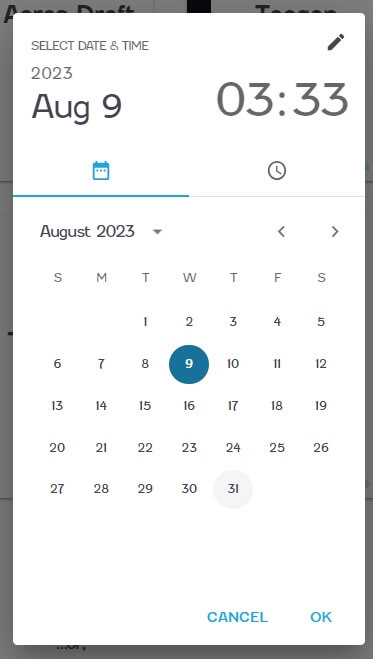 Settings
NovelPad offers the following setting options:
dark mode
font and font size
line and paragraph spacing
indentions, page width, text alignment
chapter numbering
typewriter mode
ProWritingAid (included with NovelPad subscription) specifications
smart quotes
custom scene color labels
Goal Tracking
On the Goals page, we can see our progress in words and minutes, as well as today's goal and how close we are to it.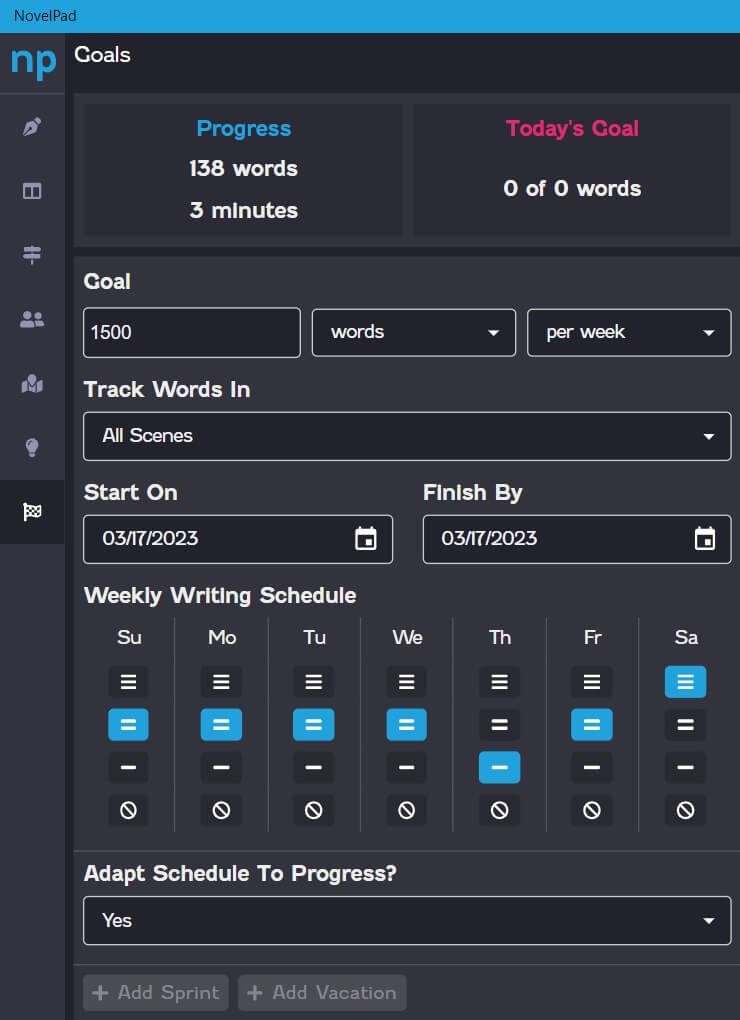 You can set a goal of words or minutes, per day, week, month, or total. You can track words in all scenes or just the manuscript, set start and end dates, and specify how heavy you want each day to be.
You can set it to adapt the schedule to your progress, which means if you write over or under your goal for that day, it will automatically update the remaining days in your goal span to reflect that updated number.
You can add sprints and vacations, so if you have a one-time event where you'll write more than normal or not at all, you can factor those in here. It's a very intentional and controlled goal-setting and tracking method.
Drafting
Drafting can be done in the main manuscript, or via the Chapters page in individual scenes. The Chapters page is where you can organize your Scene Cards.
You can click-and-drag Scenes and Chapters, which is helpful for restructuring, and you can assign those elements we mentioned above on this drop-down menu.
Offline mode
One thing I love about using NovelPad is that I can open it anywhere, anytime, from any device. It's obviously available online, since you can access it anywhere, but you can also write exclusively offline. Then the next time you have internet connection, it'll resync and those changes will be available on any device. I love that you don't need internet connection to initially open the project.
Proofreader
NovelPad has a ProWritingAid integration. If you have a ProWritingAid extension on your browser, you're going to want to disable it while you're using NovelPad to avoid overlap. You can enable, disable, and customize ProWritingAid's features on the Settings page.
Notes
NovelPad's note-taking system is great for worldbuilding, research, outlines, revision notes, character information, and whatever you typically keep a thousand little post-it notes and Microsoft word documents to keep track of. You can organize into folder tiers, and you can use all of the formatting options we have on the drafting page.
The best Notes feature is linking. Highlight something in a note, and you can link the Note to any other part of your project. So if you do that really extensive character building, link this Note to that Character. It makes navigation and organizing very easy.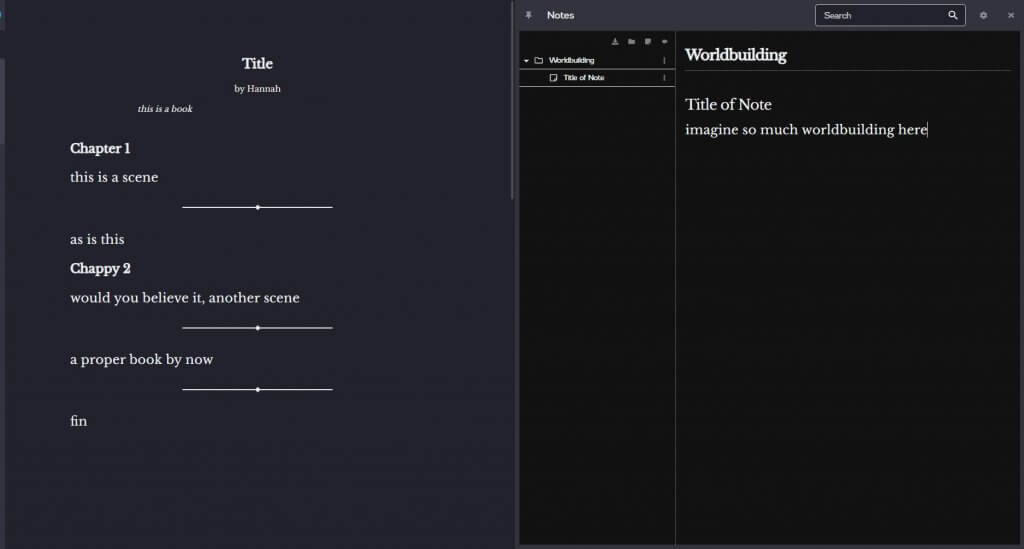 You can also pin the Notes page to have Notes open next to your drafting document for easy reference.
Revisions
One of NovelPad's gold star features is the Side-by-Side Revisions. You can make an infinite number of scene revisions and store them attached to the original version. Just click the arrow icon to swap out which version appears in the live manuscript.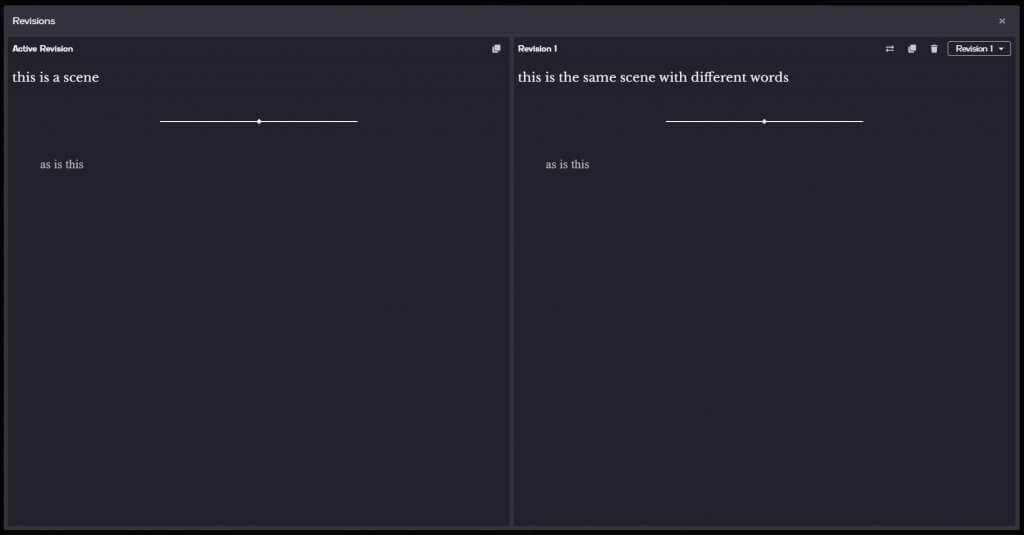 This feature has completely destroyed my fear of revising!
Export
You can export your projects from NovelPad as EPUB, DOCX, or markdown. A recent update made it where you can now download the entirety of your project, rather than just the manuscript, so if you plan a whole novel on NovelPad, then decide it's not for you and you want to move your work somewhere else, you can take all of your Character sheets, Notes, and everything else with you.
Community
Another aspect I'm looking at for both Novlr and NovelPad is their community because writing is such a solitary thing that if you're outsourcing something or using a program, I think it's a good opportunity to choose something with a social component. Lots of writers don't have an easy opportunity to connect with other writers.
NovelPad has an active Twitter, Instagram, Facebook, and Discord. As of today, Discord channel has just under a thousand members, and the developers are promptly responsive to questions and bug reports.
NovelPad's developers use Instagram to share author spotlights when a user publishes a book, host frequent giveaways to hand out free accounts, and are generally very active members of the writing community.
The most stellar aspect of their community is that your NovelPad account will get you into a writing workshop, hosted in the Discord channel. They match you up with a handful of other writers in similar genres, teach you how writing workshops run, then you can give and receive feedback and learn from other writers. Very cool!
Writing a book with Novlr
Now let's take a look at those same features in Novlr.
Creating a new project
You create a new project in Novlr by hitting Create and selecting your format. There may be intent to provide more comprehensive templates for each format, but currently it only seems to go as far as a "Poems" project labeling your project sections as "poem" rather than "chapter".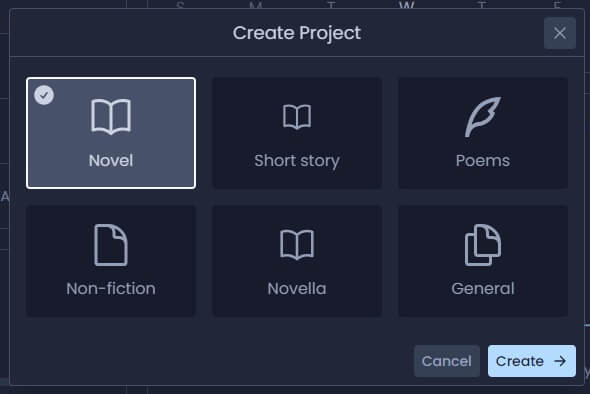 Backups
You can sync your Google Drive or Dropbox to make automatic daily or weekly backups.
Settings
Here are the settings option we get in Novlr:
light/dark mode
font formatting (mono, sans, serif, sizes)
curly quotes
paragraph indention
proofreader toggle
commenting toggle
Goal Tracking
Novlr's goal tracking system is fairly simple, the highlight being a writing day streak counter.

You can set daily writing goals and/or monthly writing goals, specifying word count and if you'd like it in all novels or a particular project.
While the goal tracker is fairly simple, there's a ton of other information to look at. Next to our goals page is an analytics page. Users can view a graph of their words written, words deleted, word count, and total words.
The productivity tab shows how much time you've spent writing, your pace, when your best writing time is, your best writing day, and your average words per chapter.

Drafting
On the drafting page, we can go full screen, toggle the comment bar and proofreader, and expand or collapse the chapters list.
Offline mode
When you lose internet connection, Novlr tells you you've been switched to writing offline and your progress will be saved to your device and then uploaded when you have connection again. Since Novlr is only available in-browser, it can only be accessed with internet connection. In my opinion, that isn't true offline availability, but it is a good feature for not losing work if your connection is spotty.
Writing
One thing that I found interesting is that you can't view your whole manuscript at once. You have to tab through the chapters. This would be fine, except if you want to just horse-blinder write, you have to expand the side bar in order to swap or add chapters. It's a lot of clicking around to navigate between chapters and scenes, which I found greatly slowed my progress.
I asked in the Novlr Discord channel to see if I was just missing the option, and they suggested I draft in one chapter with scene breaks, but also don't do that because it can't handle that many words at once, which is a problem you can have with Google Docs, for free.

A newer feature to Novlr is this page where you can sort of get that overhead shot of your project with click-and-drag scenes on the Planning page. While I love the direction this is going in, I found it to be an awkward interface that was essentially unusable for me.

I did really enjoy the success nudges that appear as you hit milestones during a writing session. It did genuinely motivate me.

Proofreader
The proofreader for Novlr is another ProWritingAid integration, but with a little extra feature I loved. If you highlight a word, it'll drop you a list of synonyms.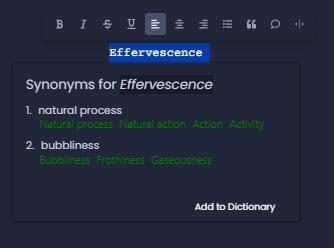 Export
You can export the full project or individual chapters as DOCX, PDF, EPUB, or ODT, with the options of line spacing from single, 1.15, 1.5, or double spaced.
Community
As far as support goes, I asked a question in the Discord channel and got a response within three minutes. My second question remained unanswered until the following day. On average, great.
Their Discord channel is active, friendly, and organized.
NovelPad vs Novlr: Feature-for-Feature
Here are the direct comparison of NovelPad and Novlr features, and which one I believe performs better in each category.
Organizational features: NovelPad
For the organizational aspect, I'm going with NovelPad. The more customizable and linkable notes, color labels, analytics, chapters overview, revision saves, location and character tracking… Everything is intuitive, clean, and genuinely helpful. Novlr has notes and their planning page, which is a nice start, but NovelPad has them beat by a mile here.
Price: NovelPad
Novlr has three options:
Free. You'd be better off with Google Docs, but this is a good option to try out Novlr
Plus. $5/month or $48/year
Pro. $18/month or $168/year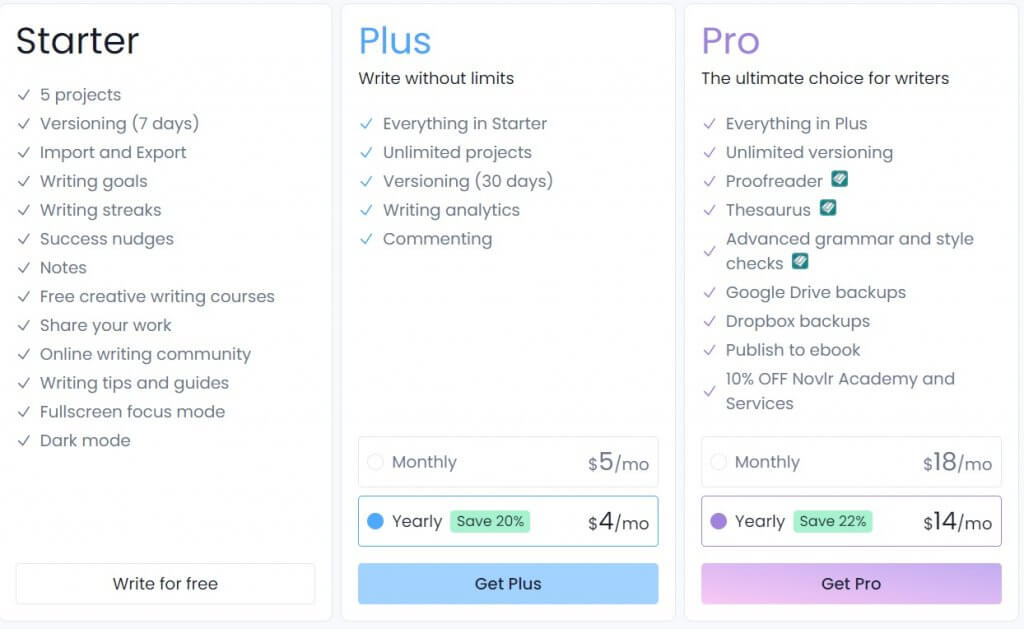 NovelPad is $15/month or $120 for the year, plus you get access to those writing workshops.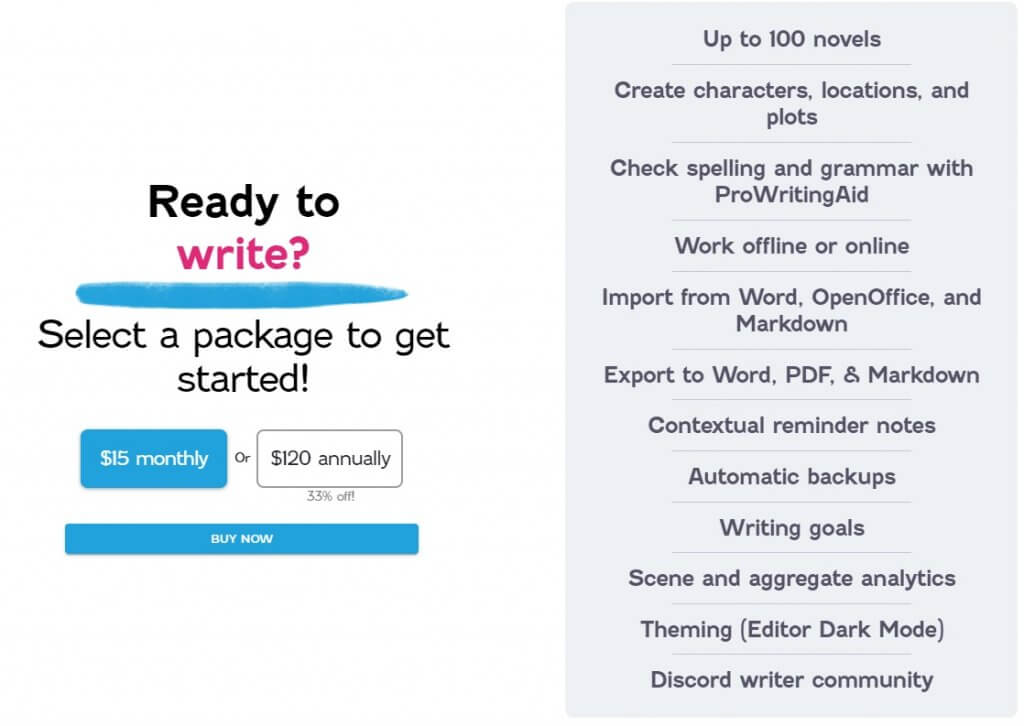 Not factoring in workshops, NovelPad is still $48 cheaper than a full-access Novlr account per year.
Security: NovelPad
With the 60-second auto saves and Rewind feature, NovelPad knocks secure backups out of the park.
Drafting: NovelPad
NovelPad's ease of starting a new scene is great—you just hit shift+enter. On Novlr, it's pretty simple to add a new scene, but does take more buttons—three asterisks, then enter—so shift, 8, 8, 8, enter. That might seem like a silly thing to point out, but those little extra time sinks really add up over the course of an entire writing session, and Novlr has a healthy amount of little time sinks.
There's a lot of clicking around involved in using Novlr, which slowed me down significantly.
For NovelPad, the Scene Cards are amazing for organizing information and finding what you need in a quick glance. It's all organized and accessible.
I also love NovelPad's Notes function, and that you can split-screen with your manuscript to reference while writing.
There's a lot about NovelPad that puts it far above for me in terms of drafting.
Editing: NovelPad
NovelPad has side-by-side revisions. And you can share chapters with other people, where they can leave comments and highlights.
Novlr and NovelPad both have ProWritingAid included with the subscription, which is super nice, and Novlr has the additional feature of synonym lists.
Ultimately, NovelPad's revision function, among other things, puts it far above Novlr for me.
Aesthetic: Novlr
Okay, by "aesthetic" I mean the look of it, but also the feel. If your writing program has a bad atmosphere, you won't like to write in it–not that NovelPad has a bad atmosphere, but Novlr comes off somewhat friendlier. Novlr lets you upload cover images, NovelPad does not. Novlr has the cute encouraging messages when you've hit a milestone. Novlr has a prettier face, which could feel inviting to many writers.
Community: NovelPad
At first-glance, Novlr has a leg up in community, because their socials are more clearly linked, and their Discord community is larger. Novlr's Discord also feels more active and organized.
BUT, NovelPad has those same social media accounts, an active Discord channel, and they provide those writing workshops. The workshops alone pulls NovelPad far ahead in community for me.
Goals and analytics: Tie
NovelPad absolutely has the upperhand for goal setting. You can set specific goals, minutes or words, per amount of time or the project total, and you can set your day heaviness, add sprints and vacations—overall, NovelPad's goalsetting feature is FAR superior.
BUT, Novlr has more specific analytics for writers over time. We've got words written per day, month, and year with a nice little graph. Your growth by month.
Then at the productivity tab—which is available on the premium accounts—you can see the time spent writing, the times of day and days of the week you spend writing, and your writing pace. I could see this data being helpful for strategizing your writing time. Maybe you experiment with mornings, afternoons, and evenings, and you'd be able to see when you actually got more done, so overtime that might be helpful for scheduling writing sessions.
Novlr has the upperhand in accessibility to writer analytics, NovelPad has the upperhand in actual goal-setting.
Personally, I find the goal-setting features of NovelPad more helpful for the way that I write, but I did like looking at my Novlr data, so I'll call this one a tie.
Is NovelPad or Novlr better for writers?
In conclusion, writers could prefer NovelPad or Novlr depending on their writing style. Personally, I favor NovelPad.
| | | |
| --- | --- | --- |
| | NovelPad | Novlr |
| Price | X | |
| Security | X | |
| Drafting | X | |
| Editing | X | |
| Atmosphere | | X |
| Community | X | |
| Goals & Analytics | X | X |
NovelPad features vs Novlr features
That's 5.5 points for Novelpad and 1.5 points for Novlr, for my style and preference of writing.
I could see writers choosing Novlr over Novelad for Novlr's free version, which is a good way to test them out, but I don't think the free version works for sustainable use—you'd be better off using Google Docs. Google Docs remains my recommendation for a free writing option.
From what I've seen based on the blog content, socials, and resources, it looks like Novlr might lean for third-party published authors, while NovelPad leans toward self-published authors.
Whether either program serves either of those demographics better than the other, I can't say, but based on their content, I believe that's what they're going for. That means as they develop tools and resources, one group of authors will likely be more catered to.
So that might be the simple answer?—Novlr serves trad pubs, NovelPad serves self-pubs.
For me, based on layout, price point, organizational features, community involvement, and elements like side-by-side revisions and the chapters overview, I am still a NovelPad writer.
Which is not to say Novlr is a bad program. I think everyone will have their preferences, and like I said, I think traditionally published authors might be a little more catered to in this space, while self-published authors might not be quite as attended to.
So for my trad pubs, definitely check out Novlr–there's a free version, so you might as well!
For my self-pubs, NovelPad has a free trial, a great NaNoWriMo discount, and their cost structure is a bit more affordable than the premium version of Novlr.
What do you think?