There are many aspects of the writing industry to consider if you're an author choosing between self-publishing and third-party publishing. Money is obviously a big factor—how much you'll make with each publishing option, how much you'll spend, how much you'll save.
I've published lots of books in different genres with different pen names, audience sizes, budgets, and marketing strategies, so all of this information is from personal experience, the experience of my friends in the industry, and several years of research and observation.
In this post, we'll talk about the cost element of self-publishing.
What do you for pay to self-publish a book?
Self-publishing has a wide range of costs associated, but items you can expect to pay for include editing, cover design, interior formatting, legal items, and marketing.
Editing costs
Editing breaks down into several different types—developmental editing, line editing, and proofreading or copy editing. Those are listed from most expensive to least expensive, in general. You'll typically hire an editor for 1 to 3 cents per word, depending on the type of edit. That would put an edit for an 80,000 word book between $800 and $2,400, and you might pay for rounds of edits separately, hiking the price with each round. Most editors will offer a bundle deal for multiple types of editing, but you can also hire separate editors for each one—it's really up to you.
Further reading: Your Guide To Book Editors: Which One Is Right For You?
You may do multiple rounds of one or all of the editing types listed above. For example, if you buy a developmental edit and receive a LARGE amount of feedback that results in an entirely new manuscript, you might buy another developmental edit for the new version. If you only change a few bigger things, you're probably fine to move on to the line and copyedit without another round of developmental.
Cover design costs
Cover designs can cost you anywhere from $5 for a pre-made ebook cover to a few thousand dollars for a full design of ebook, paperback, hardback, audiobook, interior formatting, and maybe some marketing imagery like 3D renders—every designer has different packages. But for just a standard, multi-format cover design you can expect to pay between $200 and $1,200. These ranges are WIDE. It's really customizable.
You also have the option to design your own cover, but that might involve costs like time investment, software, and design courses. Plus, you risk a lower quality product, if you're not a professional designer with trend knowledge in the book industry. Designing it yourself can be riskier, because a cover is your #1 marketing tool.
Interior formatting costs
Formatting the interior of your book might be something you get bundled with a cover design, so this can cost anywhere from a couple hundred to a thousand dollars, depending on who you hire, how long your book is, your preferences, and your genre.
I learned to design book interiors with Adobe InDesign on Skillshare, specifically Nadege Richard's classes. You can get a free month trial with that link that should give you plenty of time to take the design classes, plus my class on publishing a collection, if that's your goal. Just be sure to cancel before the trial is up, if you don't want to be auto-charged.
Copyrights
Some indie publishers choose to skip copyrighting their books, because "everything you write is automatically copywritten," but I'm not going to comment on that. A copyright is typically $35.
ISBNs
ISBNs are your International Standard Book Number, which is the number under the barcode on the back of your book. Think of it as your book's social security number. To distribute any format other than ebook (in certain places), you have to purchase your own ISBN.
If you're publishing through KDP, they provide a free ISBN for ebooks. You can buy a bundle of ISBNs a bit cheaper than buying one at a time, so that's a way to save a little money.
Publishing
The price to upload and list your book for sale is going to depend on where you do it. KDP (amazon's book publishing service) doesn't charge upfront to publish books. They take a portion of your sales to cover printing costs.
IngramSpark charges $40 for the original upload, then another $40 every time you have to update your book in any way.
So overall, you may have to pay a small fee for getting your book into print, but most of the print costs are taken from your sales, so instead of receiving 100% of the revenue and then paying for printing, you receive a royalty from sales.
Author copies
Author copies typically cost a few dollars per book. Basically the printer will charge you the price of production and you can buy your own copies for giveaways, or to sign and sell on your website or at live events. The price varies based on things like format, the use of colors, the number of pages.
Marketing
Marketing is something you might spend no money on. Maybe you can market through your own networks, so you'd only have to give time toward it. Maybe you don't care about how much you sell or how much money you make and you just want a book published as a part of a consultation package for your business, so it could cost you nothing.
On the flip side, marketing can also cost thousands of dollars. It's a choose-your-own-adventure.
So those are the basic spending categories you can expect, but not all will apply to every writer, and there are certainly optional categories you could add.
How much does it cost to self-publish a book?
The cost of producing a book varies widely, but on average, writers spend around $3,000 to self-publish their book. Some spend up to $10,000, while others manage to do it for free.
Reedsy did some estimates by genre of what it would cost to produce and publish an 80,000-word book and they came up with the following:
The cheapest genre is romance at $3,819
The most expensive is business, self-help, and health at $6,172
If I had to guess why the last one is the most expensive, I'd say it's due to those genres being much heavier in imagery like graphs and other visual elements, which would make the design and printing more expensive. I'd also imagine that those books are much likelier to need extra steps in the editing process, like industry experts and fact-checkers.
The genre most comparable to mine under this pen name is literary fiction, at $4,300. I spent much less than that average, but my books are considerably shorter than 80,000 words.
Should you be spending thousands of dollars on publishing your books? Probably not, honestly. It comes down to your goals, your skills, and what kind of budget you're working with. I'll talk more about how to decide what your budget should be later on, so keep reading!
What it costs to self-publish: Real example breakdown
To give you a specific example of a real budget, I'll break down my own book publishing budgets for you. I like to use my own examples because I can be confident in the accuracy.
So here are the cost breakdowns for my short story collections, Little Birds and Starlight.
For Little Birds, I wanted to produce a book as affordably as I could while still having it be as high quality as possible. For Starlight, I had a better idea of how quickly I could make back my money, so I was a little more generous with my budget. But both books were pretty affordable.
DESIGN
For Little Birds, I spent around $500 on the cover and interior design, for the ebook AND the paperback. This is extremely cheap, because it was a small shop. I really liked working with that designer because they were very flexible and made the exact cover I wanted.
That's also a downside though, because I was not an industry expert on book covers and what was currently trending. So was it exactly what I wanted? Yes. Was it designed to appeal to my target demographic in the most effective way at that time? Who knows.
For Starlight I hired a different designer and paid around $700 just for my covers. That's a lot pricier than my first designer, but this one was an established business with whipfast turnaround. I basically sent them a sketch of what I wanted, which was this:
And they sent me this: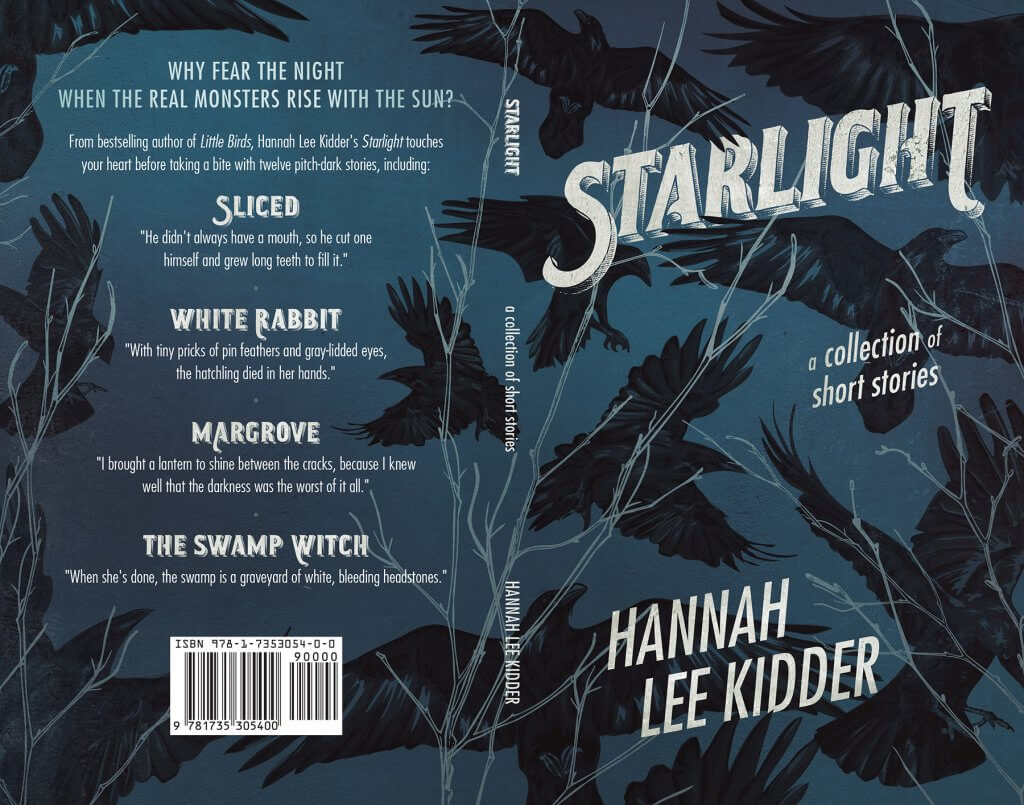 Those are very different covers! I love the one we ended up with, and I wouldn't have come up with that concept on my own. Hiring an industry expert for my cover design was ultimately a great call.
I did the interior design for Starlight myself and spent around $40 on the software. There was a little time investment learning how to use it, but now I'm pretty set to do all of my own interior formatting from now on, so that was worth it. I'm happy with my decision to design the interior myself, and I was happy to fork over a few extra dollars for a really well-done, trendy cover. Because, like I said, your cover is your biggest marketing tool.
EDITING
I used the same editor for Little Birds and Starlight, which was a friend I met in college. I paid more for editing Starlight because I basically had a range of fair prices that wasn't taking advantage of either party. For Little Birds, I had no idea if I was going to make money, so I paid on the lower end of that range, then for Starlight I was able to pay the higher end because I knew I would turn a profit.
ARTWORK
Artwork is super optional, but if you've seen my paperbacks, you know they both have artwork, both by my friend Rosalyn. The cost for artwork was the same deal as my editor, where I paid on the lower end of fair for Little Birds and the higher end for Starlight.
MARKETING
I paid nothing in marketing for Little Birds. I spent maybe twenty bucks on giveaway items, plus shipping, but I really just utilized what I already had.
For Starlight, I did MORE giveaways, with higher quality items. I also invested more time promoting Starlight, like doing interactive giveaways, more streams, more everything. So I spent a little more money on Starlight marketing, but it was mostly a bigger time investment.
Overall I spent around $900 producing and publishing Little Birds, which I made up in the first couple weeks of presales, and I spent around $1,400 on Starlight, which I made up in the first couple days of presales, which is so wild. (Thanks for making that happen, friends!)
How much should a self-published writer spend on a book?
So how do you decide what to spend on your own book? Difficult to say. Here are some questions to ask yourself to narrow that number:
1. What do you want to accomplish with your book?
Not every author is publishing books with the intent to sell as many as possible. You might not care how many you sell at all. Most people write books to make money, but some write books as supplementary material for their online classes, as business cards for their company, for a very niche group of people, just to say they've published a book, or just for their personal social circle.
How much you spend can depend on your overall goals with the book, so think about why you're publishing it to decide how much money you're ready to invest.
2. What's your genre and target wordcount?
Knowing your genre and word count will help you estimate the price of editing and designing. The longer your book, the more it'll cost. And certain genres have different expectations for cover matter. In general, you'll spend more on designing a cover for memoir or fantasy than you would spend for paperback romance or serial sci-fi.
3. How big is your platform?
What kind of sales can you expect from your current audience? When I published Little Birds, I had a few thousand subscribers and didn't really have a reputation as a writer, so I kept costs as low as I could without producing a completely shitty book. When I released Starlight, my platform was 4 times as big as it was for my last book launch, and I had the Little Birds numbers to draw estimations, so while I still tried to keep my budget low, I was able to invest in a better cover and pay my friends more.
So make a guess at how many copies you can sell based on your current platform. The more you'll sell, the more comfortable you can be allotting more money to producing the book.
4. What's your intended publishing schedule?
I'm including this question because if you intend to rapid-drop books for a quick release format, you might not spend as much time with editors, so your editing budget might be lower. You also might buy a bundle of pre-made covers (that's something you'll see a lot of in romance, erotica, western, sci-fi paperback genres and things like 60-minute niche business ebooks). So if you're intending to publish a book every other month, your budget is probably going to be much lower than if you publish a 600-page fantasy novel every 4 years.
5. How much do you have available to allocate to your book?
Sometimes it's not a matter of deciding how much to spend, it's a matter of how much money you have to spend. If you've got no book budget, there's a finite amount of things you can do about it. The only advice I have here is planning a publishing schedule and seeing how much you can save before then. But if you're just starting and you have literally no money to dedicate to publishing a book, then don't spend money! You can absolutely design your own ebook cover with the free version of Canva–research best design practices, look at other books in your genre, and do your best for a cover. Same for editing and formatting.
Start where you are with what you have, then set aside some of what you make from that first book to put toward your next publication.
How to publish a book on a budget
If you're working with a super slim budget, I've got 5 tips for funding your own book as affordably as possible.
1. See what other people are doing.
If you've got no idea who to hire or what to buy, find other indie writers in your genre who are doing well. If you really like an indie writer or content creator with books out, they probably have a video or information about who they've hired, and you can check that out. Apart from that, let people know that you're looking for a children's book editor or whatever—tweet about it with hashtags, mention it to friends in the industry, and you'll probably get some recommendations.
2. Plan ahead.
If you know what books you're publishing and when, you can plan how much money you need to have saved. If you just write the book and don't consider next steps, you probably won't be prepared to publish when the time comes, pushing your timeline back for no reason.
3. Invest wisely.
If you want your book to sell, you need a good cover. Your cover is your biggest marketing piece. It doesn't matter how good your book is if your cover sucks. Invest in a good cover. If you have money left, invest in an editor. I know not everyone can hire an editor right away, but try to give your book the editing attention that you are able to.
I know authors with truly tragic books that are selling really well because they have strong covers, good marketing, and clean prose. A well-made book doesn't mean it's a good book, but it turns out that it's kind of hard for the average reader to spot a bad story when it's presented perfectly.
Take yourself and your writing seriously by investing in the presentation where you can. Covers and editors are where I'd recommend putting your money if you're working with a small budget and can only focus on one or two things.
4. Service trade.
If you're great at writing blurbs and back cover content, and you have a graphic designer friend, do that for each other. If you and a writing partner are both great editors, edit each other's books. It's really hard to edit your own books as well as another editor could, even if you're a professional editor. Trading favors is a great way to save money when you're starting out, even if it just gets you a discount.
5. Promos and crowd funding.
If you have a platform, you could offer a promotional post in exchange for a free or discounted service from another company. You can also use your platform to crowdfund. For example, when I started my Patreon, all patrons were included in the special thanks section for Little Birds, and all $20+ tiers got a character named after them. At the time, I only had 36 patrons, so that was a very manageable thing for me to do. Patreon has been an amazing way to fund my content production, but I've also seen writers raise bulk amounts of money through one-time fundraisers. If you have a platform, you have a lot of options.
How to publish a book for free
Obviously it's better to have some amount of money upfront to put toward book production, but you can't always do that for your first publication. And you might never want to do that at all. For one of my pen names, I have literally never spent a dime. And it's my best-selling pen name.
My full publishing breakdown
This is how I publish books under my no-monetary-investment pen name.
Editing: I self-edit my novels, then get a couple smart friends to proofread for me. Only a handful of typos make it through, and that's just not the end of the world for the genre I publish in.
Design: I do my own interior formatting and cover design. As I get better at cover design, I'll go back and update my old books to make them look a bit nicer. It's totally fine to start where you are and learn as you go.
Legal pieces: I don't buy copyrights for my books under this pen name, because I frankly don't care to. There's a lot of debate about where or not you even need to pay for a copyright, so I feel fine skipping that step. And since I only publish ebooks, KDP includes an ISBN for free.
Marketing: I rely on social media, review sites, newsletters, publication calendars, and other venues that are totally free to use. For the most part, my marketing is algorithm strategy. Another good move is to update your old books with links to your new releases, that way readers can be immediately passed on to their next read.
HOT TIP: Keep a list of places you send your book for review and publication calendars, because you will forget about all of them by the time you publish your next one. Don't keep inventing the wheel. Keep notes on all of your process, what works, what doesn't, contact information, and links.
If you're publishing for free, you're probably publishing a lot of things quickly, so the more honed your process is, the quicker you can drop books, and the more money you'll make.
I keep one document with the step-by-step instructions for editing, formatting, exporting, uploading, meta data tasks, description outlines, review sites–all of it! It makes things much easier.
Publishing doesn't have to cost anything. People who tell you it has to be expensive are just not very creative.
Of course, all of what I just described requires some amount of skill, but don't let that intimidate you. My cover designs get better with each book, and if you're self-published, you can always go back and replace your old covers when you get a little better at it. Same for writing and editing—you can always revisit your earlier publications and update them as you get better at it. That's the cool thing about self-publishing. You can start anywhere, and you control everything.
It's fine to start imperfectly. You will improve as you go, just keep an open mind and be ready to learn. Utilize free educational tools. Google things. Look at what other people in your genre are doing.
You saw my mockup for the Starlight cover. It was bad! I've now designed so many books that I might never hire anyone again. The next book under this name will probably be my own cover design, which will save me tons of money.
Self-publishing average cost versus self-publishing for free:
| | | | | | |
| --- | --- | --- | --- | --- | --- |
| | Editing | Design | Legal matter | Marketing | TOTAL |
| Self-publishing average costs | $1,600 | $1,200 | $65 | $300 | $3,165 |
| Self-publishing for free | Self-edit & beta readers | Self-taught | Ebook only | Socials & algorithms | $0 |
self-publishing cost comparison
To sum up, publishing a book can cost anywhere on a WIDE range of prices. It pretty much costs what you want it to. If you've got the money, invest in a strong cover and good editor. Put some time toward marketing, even if you're not putting a lot of money into it.
If you're looking to design your own book interior, I recommend Nadege Richard's Skillshare classes. If you're trying to publish a collection, I recommend my Skillshare class on the topic, especially if you enjoyed the breakdown of my Starlight and Little Birds budgets, because I discuss every aspect of publishing and why I did things differently for each of them in that class.
See you next time, BYE!